Hero Age Android Mod – [ Unlock, Auto Kill, Recover Monster, God Mode, One Hit, Move Speed, Add Exp ]
Admin • 12 months ago
Hero Age Mod Info
| | |
| --- | --- |
| Name | Hero Age |
| Developer | Gnik Box |
| Package Name | com.gnik.heroage |
| Version | 3.7.2 |
| Root Required | NO |
| Mod Price | FREE |
New story begins
This is a hero and an ancient world. You will be a hero to protect your continent.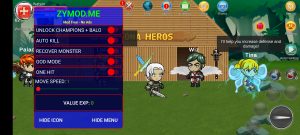 Mod Features:
• Unlock Champios + Balo
• Auto Kill
• Recover Monster
• God Mode
• One Hit
• Move Speed 1-999
• Add Exp
6 heroes: - Knight: A powerful melee skill, he uses a sword to attack monsters. - Mage: A powerful magic skill that uses sticks and magic to attack a variety of monsters. - Archer: Archery skill is very strong, she shoots enemies with bow and arrow. - Swordsman: Powerful with a magic sword, he can use both melee and magic skills. - Wizard: Powerful with poison, summoning and buff skills. - Lord: Powerful with a staff and control pets. Unique weapons and skills Your hero can use a variety of weapons and armor. Each class has different items and skill trees. Challenge and Monster Area There are many lands in your continent that need training and hunting. Each land has many types of monsters, each with different skills and strengths. Classic role-playing game This is a real RPG game where you will see health and mana potions. Train your character and level up to catch monsters to get gems or runes to upgrade items. There is a leaderboard that can show your strength, your achievements, your projects. Your character will continue This game content is often upgraded. Now is a good time to train your character. Special features: 1. Item upgrade system. - You can use Ancient Jewel to level up your items, such as armor, weapons, shields, pendants and rings, up to 15 levels, each with different graphic effects together. - You can use a lot of runes to add more options to your items to power up your items. 2. Mission system. - To get more attribute points, skill points, coins, experience points or lucky items, you have to do the quest. - There are many types of missions: killing bosses, hunting and searching for quest items. 3. System operation. - Hell powers are the main event in this world, and you will fight them for quality items. - Small game, line up the lucky box to get it and you will have a chance to get lucky items or coins. 4. Mobile friendly. - This game is designed for mobile, nice graphics, great controls and smart action. 5. Automatic hunting. - You can let your character find monsters and attack them automatically (best suited for mobile games). - Just tap and watch, loot, and wait for the upgrade. 6. Item Box. - You will have enough space to put items together. - You will also have an inventory to exchange items between characters. 7. Wings and crafting system. - You can hunt the Celestial Bird Badge to craft wings. - To be able to create wings, you need 5 million coins, 1 Jade Gold Emperor, 1 Heavenly Bird Badge and 1 level 10 item with 6 or more features. - You can also use crafting to upgrade items up to level 20.