Call of Duty®: Mobile – Garena (CODM Garena) – [Draw ESP, Aimbot]
Admin • 1 year ago
Call of Duty®: Mobile - Garena Mod Info
Name
Call of Duty®: Mobile - Garena
Developer
Garena Mobile Private
Package Name
com.garena.game.codm
Version

Auto Update

1.6.34
Root Required

YES

Mandatory
Magisk v24+ & Zygisk Enabled
Mod Price

FREE
Call of Duty Mobile Garena – The most anticipated FPS game of 2019, has officially opened. Readers can see instructions to download the game directly here. While PUBG Mobile was full of Hacks, gamers soon put their faith in a new super product, an FPS title in the best-selling virtual world. That's right, we are talking about Call of Duty Mobile, a blockbuster placed under the cooperation of two game giants, Activision and Tencent. With the reveal since the beginning of the year, Call of Duty Mobile is making gamers restless, especially after many successful tests in many different regions.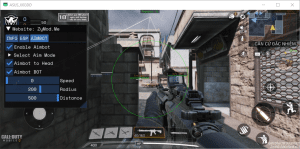 Mod Features:
Draw ESP [Line, Box, Name, HP]
AimBot
The mod has many errors, hope you understand!!.
Enjoy the iconic first person shooter game all from the tips of your fingers. Suit up and join the battle! Get ready for more action in Call of Duty: Mobile - Garena! [New Area : New Vision City] A high-tech metropolis newly built in Isolated, is facing a cataclysmic War threat! Come and battle against post-humans in Public Security Section 9! [New Weapon & Attachment] Introducing a new SMG weapon, Switchblade X9: A high-tech SMG that can display its full capabilities in close-quarters battles and a lightweight SMG with high mobility with low recoil for superior handling. Plus a new attachment, Branson: Using factory automation, the first 2 bullets fire faster. [New Feature : Weapon Comparison and Mythic Share ] A new weapon comparison system is now available, displaying more comprehensive and accurate information to provide more clarity for players in selecting their preferred strategic loadout. New Mythic Share is the feature that allows players to share their fully leveled Mythic weapons with their teammates using Mythic weapon projections. [New Operator Skill : Claw] Claw is a lethal firearm with ricochet ballistic rounds, rapid rate of fire and rapid-fire spread shot. Equip them and defeat your enemies with it! [New Ranked Mode Upgrade : Multiplayer & Battle Royale] New Theme, Rewards and Bonuses are available for grind! Grand Master Bonus are now available ! Once the players achieved Grand Master III in either BR or MP, they will receive an XP bonus in the other lower Ranked MP or BR before leveling up to Grand Master. Plus, receiving the first win of the day in some modes will grant the player Rank XP.