Critical Ops: Multiplayer FPS Android Cheat – [Draw ESP, Line, Box, Info, HP]
Admin • 12 months ago
Critical Ops: Multiplayer FPS Mod Info
Name
Critical Ops: Multiplayer FPS
Developer
Critical Force Ltd.
Package Name
com.criticalforceentertainment.criticalops
Version

Auto Update

1.34.1.f1974
Root Required

YES

Mandatory
Magisk v24+ & Zygisk Enabled
Mod Price

FREE
Critical Ops will take you to fierce, suffocating battles. With the use of sharp 3D images, diverse weapon systems and large and eye-catching battle scenes, the game will surely bring you the most engaging and interesting playing emotions.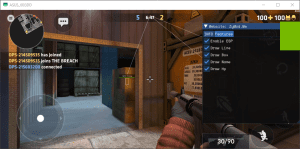 Mod Features:
Draw Line
Draw Box
Draw Distance
Draw Hp
NOTE: The menu has an error you need to press to the left and up a little bit to can toggle the features.
Critical Ops is a 3D MULTIPLAYER FPS designed exclusively for mobile. Experience action, where fast reflexes and TACTICAL skills are essential to success. Are you ready for the challenge? Critical Ops is a first-person shooter that features competitive combat through beautifully crafted maps and challenging game modes. Battle it out alongside your band of brothers or lead an individual scoreboard. When duty calls, you must answer! Will you fight as a member of Coalition or The Breach? The outcome is determined by your skills and your strategy. Offering no in-app purchases that give competitive advantages, we guarantee a FAIR-TO-PLAY scene! Master a variety of weapons and improve your shooting skills by competing in intense PvP gameplay. Competitive ranked games pit you against other similarly skilled operatives. While playing, you will learn new mechanics and gain knowledge, allowing you to evolve as a player.