Garena Liên Quân Mobile Android Mod – [Hack Map, Aimbot, Drone View]
Admin • 12 months ago
Garena Liên Quân Mobile Mod Info
Name
Garena Liên Quân Mobile
Developer
Garena Mobile Private
Package Name
com.garena.game.kgvn
Version

Auto Update

1.47.1.5
Root Required

YES

Mandatory
Magisk v24+ & Zygisk Enabled
Mod Price

$10
The name Lien Quan must be no stranger to us, even parents. Voted as an eSports subject (e-Sports), Lien Quan gradually shows its position in the Mobile game village. Diverse gameplay with more than 90 generals in 6 different roles: tank, fighter, assassin, mage, gunner, assistant. Each general will have a different set of skills and depending on the role, the power parameters will also be different such as: the skill mage will have high magic power, the gunner has high attack power. From there, it is possible to create a suitable play to increase the strength of the champion and win against the opponent. The map system is divided into 3 main roads and the forest area in between. Cut between the 3 main roads is the river, along the river there will be terrible monsters.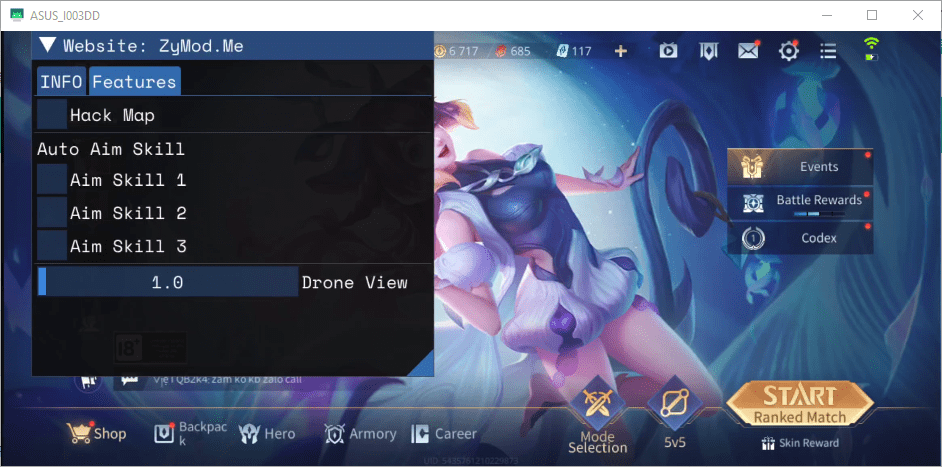 Mod Features:
Hack Map //All Enemies Visible
Aimbot //Auto Aim Skills
Drone View
LEGENDARY AGREEMENT – WIN AND LOSE AT SKILLS! Join your alliance in the brand new & FREE 5v5 arena! INTRODUCE Claim yourself, team up and challenge millions of other players through countless great 5v5 battles on Garena Lien Mobile's legendary 5v5 MOBA Esports arena – victory or defeat in skill! Join the in-game Clan Alliances to fight and become a legend in the world famous MOBA Esports PC game. Choose a real nickname now, join Garena Lien Mobile's legendary world of MOBA Esports 5v5 and make your name known to the whole world!